Athletes and coaches from northern Illinois and southern Wisconsin trust our performance coaches to make them a better overall athlete. They trust us to help them break records and crush their goals year after year. Don't just take it from us, see what some of them have said about their experience at Mercyhealth Top Performers.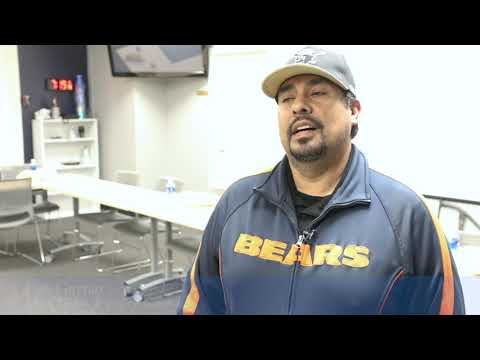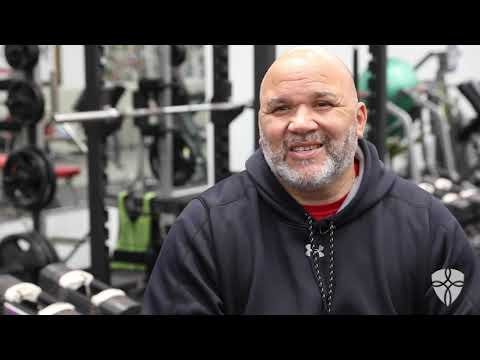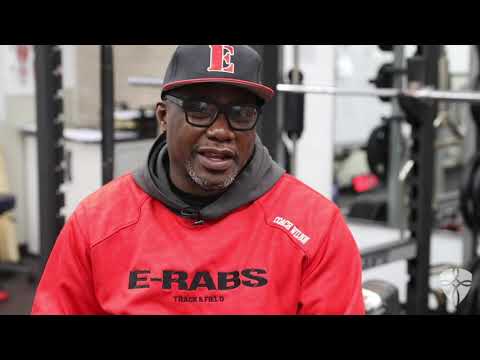 "Throughout my four years training at Top Performers, I have become not only physically stronger but also mentally. Every training session I have been pushed harder than I ever thought I could go, and each step of the way the trainers have been there to make sure I was getting all that I could out of that particular lift/exercise. As a volleyball player, I always dreamed of making it to the collegiate level. Without the help of Top Performers, I would never be able to attend Northwestern University for volleyball. Thanks to Tim and all the trainers here, I feel confident in my training abilities and strength going to the next level. By no means was the training easy, but that is what makes it so valuable and great. The trainers here have one goal—to make you the best athlete you can be in your particular sport. I could not be more grateful for TP for getting me where I am now!"
—Katie Kniep, Northwestern University Volleyball
---
"I have been working out with Top Performers for seven months and it has been a positive, rewarding experience for me. I have been working on my speed, agility, and strength and have excelled past my expectations in all areas. I have learned how to push myself further than I thought possible, and even though I was working hard, I was having a great time doing it. I feel more than ready to start working out with my college team, and I will definitely be back during all of my breaks. I would recommend Top Performers to any athletes wanting to better themselves. They will design a program specifically for you and you will definitely see results."
—Jordan Haverly, Indiana University Volleyball
---
"Thanks for making me a better athlete over the last four months. You have pushed me and taught me the ins and outs of how to run, jump, and explode. It's been tough, but a very fun process to see myself transform. I went from barely touching a basketball rim to dunking. Prior to training with Top Performers, my workouts consisted of lifting weights but I didn't know how to work on speed, agility, flexibility or explosiveness. I thought being big was enough. It was a fantastic opportunity to work with a trainer right here in my community who trains professional athletes. Through training with Tim, I feel I am in the best shape and in the best position to compete at the college level. I wish I had started sooner. Thank you for not letting me be average."
—Jake Hoper Drake
---
"Words cannot explain how much my core/hip strength has come along. In the beginning, I couldn't even get to parallel. I have been coming for three years and have become significantly stronger and faster. Developing a bond with Tim and Jay makes you want to come back. If you want to improve double of what you were before, come to Top Performers!"
—Zac Hare
---
"Training at T.P. was one of the best decisions of my high school life. Overall, it increased my speed, agility and strength. If it wasn't for coming here, I wouldn't be the athlete and person I am today. I was pushed to my limits every session, and for that, I thank you guys."
—Britten Vernon, University of Wisconsin-Stevens Point Football
---
"I came in thinking I worked as hard as I could. Then I started working with Tim and found out that I could be pushed harder to my limit. I plan on working with Top Performers every off-season."
—Cody Scarpetta
---
"Top Performers has been extremely valuable in training me to be a better hockey player and athlete. They identified and worked on my weaknesses, while continuing to improve my strengths and hockey-specific workouts. I have improved the muscles I use on ice, specifically enhancing my speed, quickness and stamina. I have seen rapid improvement in a short period. My off-ice strength gains have translated to on-ice performance. I would recommend Top Performers to anyone trying to play hockey at a higher level."
—Troy Mattila, Dartmouth College Hockey
---
"Top Performers has gone beyond my expectations in developing me into a better athlete. Going to Top Performers as sophomore, I knew I wanted to play basketball beyond high school, but I didn't have the edge I needed to stand out over my competitors. Top Performers analyzed me as an individual athlete. They performed different tests that highlighted my strengths and weaknesses, and from there developed a program built around me as an individual. I started doing an eight-week session. In my post testing, I saw improvements in my speed and weight training but I wanted to see larger gains. When I decided to train at Top Performers year round, I noticed major results. I was faster and stronger on the basketball court and developed an edge over my competitors. Of course, training year-round requires dedication and motivation, but the trainers at Top Performers are encouraging, positive and pushed me to achieve what I thought was impossible. I can honestly say I would not be the athlete I am today without the impact of Top Performers. I can proudly say as a senior I was team captain and MVP. I was honored with AP 1st team all state, IBCA 1st team all state, and unanimous all conference. Next year I will play basketball for Wichita State and I am confident that Top Performers has prepared me to transition to the next level. I would recommend Top Performers to all athletes who are willing to work hard in order to develop an edge over their competition and achieve their goals."
—Ellie Lehne, Byron Girls Basketball, Wichita State Girls D1 Basketball
---
"The past two years at Top Performers have really helped me grow mentally and physically. It helped me physically by making me quicker, stronger, and more in shape. Mentally, I have become more focused, harder working and disciplined. I am able to push myself to the limit. When I step on the field now, I am ahead of the game because of everything I have been taught. It's nice to know that while I'm taking the time to better myself athletically and someone is taking the time to push me, most of my competitors are sitting at home. Top Performers has helped me get to where I want to be with my soccer career. There is no doubt that I will continue to be a customer."
—Mary U.
---
"Although I am very active and young individual, I was overweight and did not intend to live the rest of my life that way. I started losing weight by myself and it was anything but easy, but I managed to lose 13 pounds. After I found myself in a slump, I wasn't able to lose any more weight. This was the fall and most of the time I do not play any winter sports, but I knew that I loved volleyball and that there was a fall and winter league at I.S.C (Indoor Sports Center). I decided I was most definitely going to take part. At an information meeting, Tim Bailey talked about a program called Top Performers where he trained athletes using weights and other drills. He said he had trained some of the best volleyball players to come out of Rockford. So I figured, 'What do I have to lose besides more weight,' and decided to sign up. After just a few sessions, I noticed I became a significantly better player. On the weight scale, I become a healthier person. With the help of Top Performers, I lost 21 pounds, passing my goal of 20 pounds. I know that I would not have been able to reach this goal alone. I have become a better and more confident player, but my confidence has carried over to my everyday life, and for that I am grateful. In this program, I have done everything from cone drills, wall sits, dumbbells, TRX training and much more. It was most definitely not an easy program, but was worth every minute. Thanks to Top Performers, I have rediscovered my capabilities and strengths."
—Megan M.
---
"Tim Bailey and Top Performers have drastically improved my abilities on the football field and during my workouts. With Tim's help during the offseason before my senior year, I have become the best possible football player I could be. I received countless letters and many offers from college coaches, anywhere from D1 to D3. I was also invited to play in the Pigskin Classic All-Star game in Hawaii. I went to a camp there and the skills Tim helped me develop definitely showed. Without the help of Tim and Top Performers, I would not be the player I am today. I will definitely be ready for the challenges at the next level. I encourage any athlete of any sport who is looking to improve their abilities to train with Top Performers—you won't be disappointed."
—Spencer Smith, Boylan Catholic High School
---
"Top Performers has made me a better athlete mentally and physically. It has made me a better basketball player and has transformed my game. Strength and explosiveness are a big part of my game now because of my training. I'm able to finish over taller defenders and finish at the basket through contact better than ever before. I've become a great defender thanks to the specific training we work on at Top Performers. Training can be difficult, especially when you're training three days a week. It really takes mental toughness to keep grinding it out, but it has helped me tremendously."
—Nick Stadelman, Guilford High School Basketball
---
"Top Performers helped me to realize that I had to do something extra if I wanted to be successful at the college level. Not only did Top Performers improve me as an athlete, but their program helped me stay injury-free in college and early on gave me a substantial foundation for the weight training and fitness sessions I encountered at the next level. There is no way I would have played four years of Division 1 college soccer without the help of Top Performers."
—Brian Klazura, Rockford Raptors Alum, 2010 Boylan High School Alum and 2014 United States Air Force Academy Alum
---
"Top Performers is the best place to train in the Midwest. They have amazing facilities, great equipment and a top-notch staff to make you faster and stronger. Trainers Tim and Jay are some of the most knowledgeable and motivational people I know. They do a great job getting every ounce of athletic ability out of you and push you to the best you can be. If you want to become a better athlete, get to Top Performers. The name does not lie. You will see the results and the most important thing is they will get you ready to play at the next level. Top Performers is the place to be if you want to be great."
—Garrett Buckner, Winnebago High School Football
---
"My experience at TP is one I will never forget. These past few years have helped me mature, not only into a better athlete, but a better person as well. The guys over at Top Performers have given me qualities and knowledge to hold onto and apply to my life, both on and off the field. The past couple years have been some of the hardest of my life. After reinjuring my shoulder and undergoing a second invasive surgical procedure, my doctors said I would most likely never play my sport again. However, I knew deep down they were wrong. Tim and Jay helped me overcome a tremendous amount of adversity and anguish over my two-year rehabilitation. In doing so, we have established important friendships that I will cherish for the rest of my life. Without their help, I would've never been able to set foot back on the football field. They helped me regain confidence, both in myself and my capabilities. I can't thank them enough for their help and guidance over the years. My time at TP was truly a special experience, and one I will never forget!"
—Corey Haselton, Hononegah Football
---
"I have trained at Top Performers for two years and cannot describe how much it has helped me in athletics. When I started, I weighed around 130 pounds during my freshman year and had horrible technique on my squats and many other lifts. Not only have I gotten stronger, but am up to 170 pounds, and learned the correct way to lift. As long as you are a hard worker and want to get better, Top Performers will help you tremendously. So far, TP has played a huge role carrying over to the field, court and even the track. It has helped me with explosiveness and overall strength. It has allowed me to perform at my best and get an edge on everyone I have played against."
—Micah, Winnebago High School multisport athlete
---
"From the beginning, Top Performers has been a place where some of the most innovative and high-level performance training takes place in the Midwest. To have Tim Bailey in your corner means something in Rockford. From the day my older brother and I walked in and met the staff and began the process of evaluation, we knew it would be a good fit. Though in the beginning it was rough, Tim Bailey was able to positively identify muscular strength inabilities through incredibly cutting-edge technology and then custom tailor a plan that took me from an unknown athlete to a potential Division 1 athlete. With Top Performers' help, I get to play basketball at a very high level. Without Tim and Top Performers, I would never have been able to realize my goals for strength and agility with the capability/possibility of playing Division 1 athletics. Our family has complete faith in the Top Performers brand and what they stand for. Tim is certainly one of the most innovative performance specialist/mentors in the country today."
—Nick, John Marshall High School Basketball, MN
---
"My experience at Top Performers has been outstanding. The gains I have made in strength and overall athleticism have been significant since my arrival here. Their ability to incorporate a wide variety of lifts and agility training has proven to be successful in building me as an athlete. Also, the training staffs knowledge and ability to correct mistakes has helped me avoid injury and continuing to improve. The training program I wet through has been vital importance to my basketball ability. Strength, quickness, and athleticism all play a major roles in having success on the court and I am incredibly grateful to Top Performers For building me into the athlete I am today."
-Jack Holmstram, Guilford High School Basketball