Mercyhealth's Riverside Hospital Wins Healthcare Environment Award
Awards and recognition
|
Friday, December 4, 2020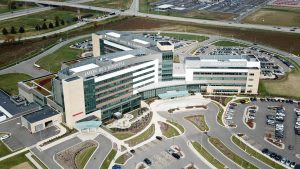 ROCKFORD, Illinois — Mercyhealth's Javon Bea Hospital–Riverside in Rockford and AECOM was recently recognized with a 2020 Healthcare Environment Award in the Acute Care category by Healthcare Design magazine and The Center of Health Design. The Healthcare Environment Awards recognize how design can improve safety, enhance experiences, increase organizational efficiency and improve any number of outcomes.
The hospital was recognized for its innovative design elements, including abundant natural light and views to the outdoors. The first floor lobby offers respite and connection. Sightlines between floors aid way-finding, reducing stress for patients and visitors. A two-story green wall depicts the regional environment, providing a connection to community and wellness promotion. Seating variety addresses individual needs and a personalized experience. Long-term flexibility and facilities management efficiencies are supported by timeless, durable, easily maintained finish materials.
At its annual virtual celebration in November, The Center of Health Design said, "The hospital sits high on a hill and the visibility is a beacon of care that welcomes patients of all generations. Playgrounds, wetland walking paths, a roof top activity area and outdoor dining all provide encouragement for patients, visitors and staff to make healthy choices to move, decompress and heal."
Mercyhealth's Javon Bea Hospital and Physician Clinic–Riverside, 8201 E. Riverside Blvd., Rockford, which opened in January 2019, allows for easy access for a wide range of patients. The $505 million hospital and medical center is the region's only women's and children's hospital, adult hospital, and medical center — a facility that provides top-level services for babies, children and adults. The campus has 194 private inpatient rooms and extensive specialty services, including a high-risk, state-designated Regional Perinatal Center for an 11-county region, a 52-bed Level III (highest level) Neonatal Intensive Care Unit (NICU) with a Small Baby Unit, maternal-fetal medicine and neonatal and maternal transport teams.
The Center for Health Design, in partnership with Healthcare Design magazine, celebrated the 2020 Healthcare Environment Awards recipients at HCD Virtual on November 12, 2020.
---
About Mercyhealth: Mercyhealth is a multi-regional health system with more than 750 employed physician partners, seven hospitals and 85 primary and specialty care locations serving 55 northern Illinois and southern Wisconsin communities. Mercyhealth's over 7,500 employee/partners care for over 2.4 million patient visits each year. As the top vertically integrated health care provider, they continuously work with a passion for making lives better for the people, families and communities they serve.
---
About AECOM: AECOM is the world's premier infrastructure firm with an unrivaled heritage delivering design, planning, engineering, consulting and construction management solutions. Recognized as an industry leader in health care design and planning.