Mercyhealth Offering WATCHMAN Implant Technology
What's new at Mercyhealth
|
Monday, October 26, 2020

Mercyhealth Hospital and Trauma Center, Janesville is the first in the area to offer this device
JANESVILLE, Wisconsin—A new medical device is being offered at Mercyhealth Hospital and Trauma Center in Janesville to lower the risk of stroke in patients with atrial fibrillation not caused by a heart valve problem (also known as non-valvular AFib). Mercyhealth is the only hospital in Rock County to offer this procedure.
This permanent heart implant effectively reduces the risk of stroke—without the risk of bleeding that can come with the long-term use of warfarin (the most common blood thinner, also known as Coumadin). WATCHMAN can eliminate the regular blood tests and food-and-drink restrictions that come with warfarin.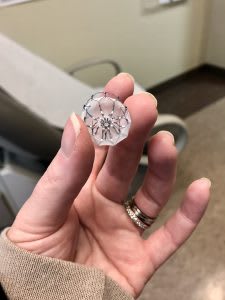 Mercyhealth physicians and employee/partners involved in the procedures are Dr. Imdad Ahmed, Electrophysiologist and Dr. Gene Gulliver, Interventional Cardiologist.
Atrial fibrillation, or AFib, affects your heart's ability to pump blood normally. This can cause blood to pool in an area of the heart called the left atrial appendage, or LAA. In people with non-valvular AFib, more than 90% of stroke-causing clots that come from the heart are formed in the LAA. The WATCHMAN implant is designed to permanently close off the LAA and keep clots from escaping. WATCHMAN is about the size of a quarter and made from very light and compact materials commonly used in many other medical implants.
WATCHMAN is implanted into your heart in a one-time procedure. It's a permanent device that doesn't have to be replaced and can't be seen outside the body.
WATCHMAN is the only device of its kind to be approved by the Food and Drug Administration.
For more information, call 608.756.6868 or visit mercyhealthsystem.org.