Mercyhealth at Home Earns "Best Superior Performer" Award
Awards and recognition
|
Tuesday, July 7, 2020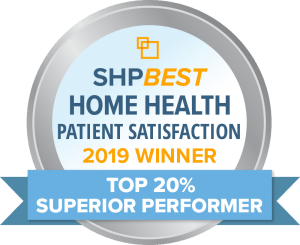 JANESVILLE, Wisconsin— Mercyhealth at Home in Janesville recently received Strategic Healthcare Programs' (SHP) Best Superior Performer award for achieving an overall patient satisfaction score that ranked in the top 20% of all clients in 2019.
The annual SHP Best program was developed to recognize home health agencies across the country that consistently provide high-quality service to their patients. SHP Best award recipients are determined by ranking the overall score for all SHP Home Health Care Consumer Assessment of Health Care Survey (HHCAHPS) clients, which includes over 4,500 home health agencies. SHP focuses its efforts on identifying and recognizing organizations that have made patient satisfaction a priority and have been rewarded for their efforts with high marks on the HHCAHPS survey.
Mercyhealth at Home offers a wide array of home health services to meet personal needs, including hospice, skilled nursing care, rehabilitative therapy and home medical equipment. Its highly trained team of nurses, therapists, medical equipment specialists and other providers bring compassion, expertise, and support patients and loved ones.
For more information about Mercyhealth at Home and/or its services in Janesville, call 608.754.2201.