Our Administrative Fellowship Program offers a unique, one-year, project-based experience at a fast-paced, growing, integrated health care delivery system.
As a result of Mercyhealth's 30 years of experience employing administrative fellows, fellows are able to become immediately involved in the workings of a nationally recognized, vertically-integrated health system.
Learning opportunities
Administrative fellows have the opportunity to:
Participate in high-level discussions regarding strategic and operational issues affecting the system
Receive mentoring from and develop relationships with the Mercyhealth executive leadership team
Provide support to hospital and clinic operations
Gain exposure to health insurance, community outreach initiatives and accountable care organizations
Since this is a systemwide fellowship, administrative fellows have the opportunity to be involved in initiatives at all Mercyhealth's hospitals, over 85 primary and specialty center locations, home health and hospice, retail services, and a wholly owned insurance company, depending on your interests.
The fellowship is a project-based experience. Fellows are encouraged to be self-directed in pursuing their areas of interest with the support of system leaders.
Webinar informational sessions
Please join us at one of our upcoming webinars to learn more about Mercyhealth and the fellowship. You will be able to interact with the current fellows and ask them questions at the end of the presentation. Upcoming dates to be determined.
Fellowship success
Mercyhealth is dedicated to the long-term development of their fellows, all of whom have successful careers within the health care industry.
Historically, Mercyhealth has offered employment to 100% of administrative fellows upon completion of their fellowship. In fact, former fellows now occupy leadership positions throughout the organization.
Qualifications
Candidates for the Mercyhealth Administrative Fellowship should be currently enrolled in an accredited masters-level graduate program in health administration (preferably CAHME-accredited). Coursework must be completed prior to the start of the fellowship in June 2023.
Applicants must be either a citizen of the United States or be able to maintain work authorization throughout the fellowship. Mercyhealth does not offer visa sponsorship to candidates for the fellowship program.
Preceptorship
Preceptorship is offered by over 15 executive leaders within Mercyhealth according to each fellow's individual areas of interest.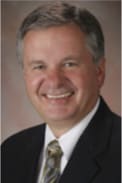 Javon R. Bea, President/CEO
Fellowship Executive Sponsor
Master of health administration from the University of Minnesota
Dear prospective administrative fellow,
I am happy you have taken this opportunity to learn more about Mercyhealth.
Over 7,000 employees, known as partners, are committed to providing the most advanced health care services available throughout our over 80 southern Wisconsin and northern Illinois Mercyhealth facilities. Our partners do this with compassion, dedication, pride and professionalism.
Here at Mercyhealth, we have a long-standing tradition of bringing in graduates from MHA programs and, through fellowships, developing them into effective leaders within our organization. I am proud of the fact that we have been able to offer a leadership position to every fellow that we have had. The contributions from our fellows are a critical piece to our success, and I know that continuing our tradition of administrative fellows is important to maintaining our leadership strength. I strongly encourage you to explore the possibility of a fellowship here.
I truly believe our accomplished staff is second to none and hope you'll consider becoming part of the Mercyhealth family.
Best regards,
Javon R. Bea
President/CEO

Jeni Hallatt, Vice President
Fellowship Preceptor
Master of health administration from the University of Minnesota
Administrative Fellowship 2000–2001

Tyler Killpack, Administrative Director
Fellow Direct Report
Master of health administration from the University of Washington–Seattle
Administrative Fellow 2016–2017
Compensation and benefits
The Mercyhealth administrative fellowship offers a highly competitive salary. Also included in the compensation package are benefits and moving expense reimbursement. Benefits include paid time off, retirement plan, medical, dental, vision, life and disability insurance.
Conference registration and travel cost reimbursement to a national or regional health care conference of your choice are also included.